Seeking Comments/ Feedback on the proposed Mobility Assessment Framework for Cities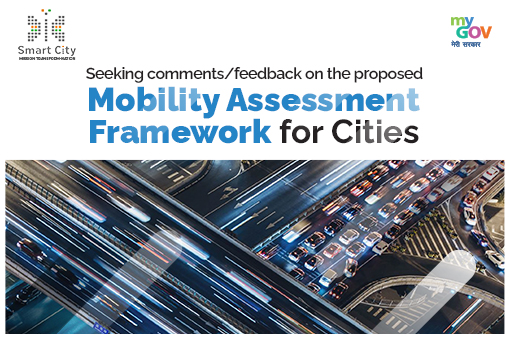 Start Date :
Oct 01, 2021
23:45 PM IST (GMT +5.30 Hrs)
Submission Closed
Recognizing the value of data and emerging technologies, the Smart Cities Mission at the Ministry of Housing and Urban Affairs is creating Sectoral Toolkits for chosen urban sectors. These documents have been prepared to facilitate cities on the importance and benefits that data-driven governance can bring to the overall city functioning and service delivery to citizens. Further, the toolkit contains selected indicators and data points that cities should aim to collect, measure, and analyze the identified indicators to enable better governance, policy making and service delivery in the mobility domain.
We are seeking inputs on these indicators for completeness of sector wise analysis as well as ensure inclusivity through lenses of gender, disability, and children. Kindly provide your inputs on existing indicators and/or suggest additional indicators along with their identified source in the city before October 24th, 2021. Some of the areas where your suggestions are solicited are as under.
Click here to read the proposed Mobility Assessment Framework for Cities