Partners for Toilets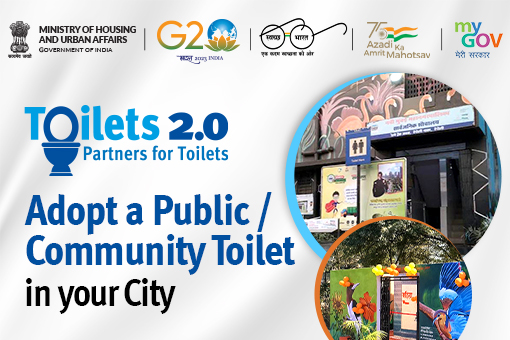 Start Date :
Nov 19, 2022
23:45 PM IST (GMT +5.30 Hrs)
Submission Closed
Adopt a Public / Community Toilet in your City
Welcome to the Partners for Toilets initiative. On the occasion of #WorldToiletDay2022, the Swachh Bharat Mission Urban, Ministry of Housing and Urban Affairs, in association with MyGov is rolling out a stimulating drive to rejuvenate the Community and Public Toilets in our cities. Keeping with the spirit of 'leaving no one behind', SBM-U 2.0 is committed to enhancing the user's experience in Public and Community Toilets across all cities.
There are over 74,000 Public Toilets, Community Toilets, and urinals in cities across India. To improvise the sustainability of Operations and Maintenance and enhanced access to Community and Public Toilets, there is a need for greater participation from a large number of partners through the adoption of a toilet.
Take this opportunity to become a 'Champion of Change'. Adopt a Public or Community Toilet(s) in your city for its overall management and beautification. Your contribution will go a long way in making swachhata truly inclusive.
Express your interest to adopt by filling out this short form. Thereupon, you will be contacted by the respective city nodal official for the subsequent partnership process.