My Thoughts – Our Toilets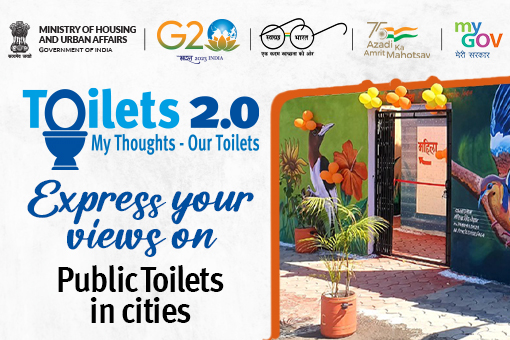 Start Date :
Nov 19, 2022
23:45 PM IST (GMT +5.30 Hrs)
Submission Closed
Express your views on Public Toilets in cities
Public toilets (PTs), that is toilets in a public place such as markets, bus stands or parks are a necessary public convenience in every city. Since 2014 when Swachh Bharat Mission (SBM) was launched, all Indian cities have become open defecation free. This revolutionary transformation in the sanitation condition of Indian cities was prompted largely by the huge investments made in user behaviour and providing access to toilet facilities. Today, there are close to 66,000 PTs under SBM-Urban in India.
This year, Swachh Bharat Mission-Urban 2.0 is launching a 6-week campaign titled Toilets 2.0 on 19th November 2022, World Toilet Day. The campaign focuses on five themes:
1. People for Toilets
2. Partners for Toilets
3. Design Toilets
4. Rate your Toilet
5. My Thoughts -- Our Toilets
As part of the campaign, SBM-U 2.0 is wanting people to voice their aspirations for public toilets in their cities. Take this opportunity by answering a few questions, and become a Champion of Change for Swachh Bharat. Filling your response will need a maximum 5 minutes of your time. MyGov and the Ministry of Housing and Urban Affairs would like to thank you for helping your city government to build public toilets that meet every citizen's needs.
To take this Survey in Hindi Click on the link below :
स्वच्छ शौचालय के लिए आपके विचार