Ease of Living 2019-20: Citizen Perception Survey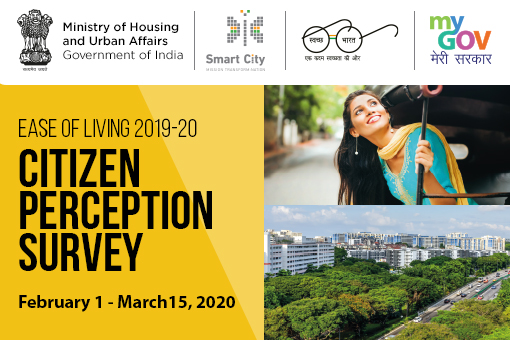 Start Date :
Feb 05, 2020
23:45 PM IST (GMT +5.30 Hrs)
Submission Closed
As part of the Ease of Living Index Assessment, a Citizen Perception Survey is being conducted on behalf of the Ministry. This is a very important component of the assessment exercise as it will help in directly capturing perception of citizens with respect to quality of life in their cities. This survey, which is being administered both online and offline, will commence from the 1st of February 2020 and will continue till 15th March,2020. On behalf of MoHUA, we would like to express our appreciation to you for taking time off from your daily routine and sharing with us your valuable feedback through this survey.
Also, the citizen perception survey is a part of Assessment Frameworks for Ease of Living (EoL) Index for all Smart Cities and million plus population cities.
Participants from all Urban Local Bodies/City are allowed to participate in the Survey. However, winners shall be selected only if the participant have been resident of his/her Urban Local Body/City for atleast past 6 months.
25 Citizens from each of 114 Cities (25*114= 2850) will be randomly selected through computer generated algorithm for felicitation. These 2850 lucky winners will be awarded with Rs. 1000 Gift Voucher and an opportunity to interact with City Mayor/ Commissioner on important issues.
Through computer generated algorithm, 1 citizen out of 25 selected winners from each of 114 cities will be randomly selected (1 citizen from each city, ie, 114 citizens) to identify National Winners.
Out of selected 114 citizens, 3 National Winners will be randomly identified through computer generated algorithm.
3 National Winners will be awarded the following:
- Rs. 25,000 Cash Prize each
- National Winners will be felicitated at "4th Apex Conference of Smart Cities" being held at Surat in June 2020. They will represent sentiments of citizens at large and will get an opportunity to share opinion on a National platform.