Desh Ke Utsav Survey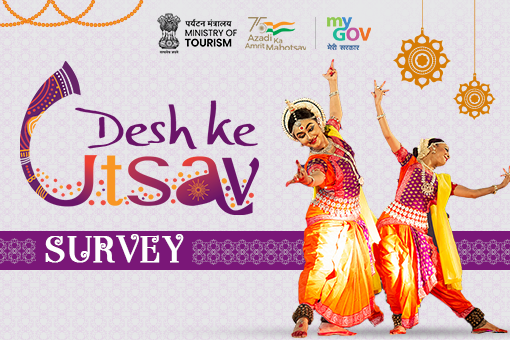 Start Date :
Sep 01, 2022
23:45 PM IST (GMT +5.30 Hrs)
Submission Closed
Utsav, developed by MOT, is the India's largest events, festival & live Darshan showcase portal. It has been instrumental in fostering culture & traditions among towns and cities to promote the visibility and attract tourism in the country.
Ministry of Tourism encourages users to visit the Utsav platform/website, where users can find information about various events, festivals, and can watch real-time darshans across the nation https://utsav.gov.in/
The primary aims of "Desh Ke Utsav" at showcasing the beauty of India, the land of festivals, in a global arena by aiding travelers with compelling, relevant, and contextualized digital experiences enhancing tourism awareness, attraction and multiplying the travelling opportunities.
This survey intends to take visitors feedback on the Utsav Portal and to know the basic information about them. The purpose of this survey is to find out the existence of unique but lesser-known festivals at district level of our country.