Citizen EV Perception Survey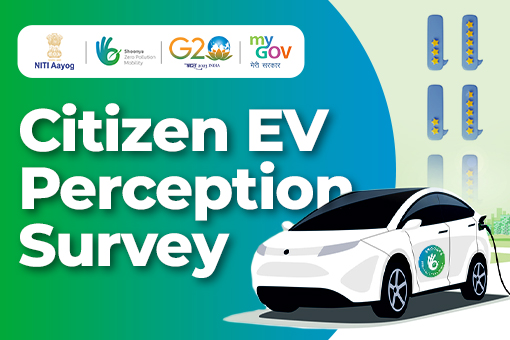 Start Date :
Jan 10, 2023
23:45 PM IST (GMT +5.30 Hrs)
Submission Closed
The "Shoonya — Zero-Pollution Mobility" campaign aims to improve air quality by promoting the use of Electric Vehicles (EVs) for urban deliveries and ride-hailing. This campaign was launched by NITI Aayog in partnership with over 130 corporates in September 2021. In the last one year, the corporate partners have collectively completed over 40 million Shoonya rides and 70 million Shoonya deliveries, resulting in 13,000 tonnes of carbon emission reductions.
For more information about the Shoonya Campaign, visit https://shoonya.info/ and learn about the benefits of electric vehicles, which include increased cost savings, improved air quality, and reduced emissions, among others.
NITI Aayog and MyGov are launching a survey under the Shoonya campaign. The aim of the survey is to understand the public perception of electric vehicles.

Last date of submission is 31st April 2023.
(Kindly download participation certificate after attempting survey.)