Citizen EV Perception Survey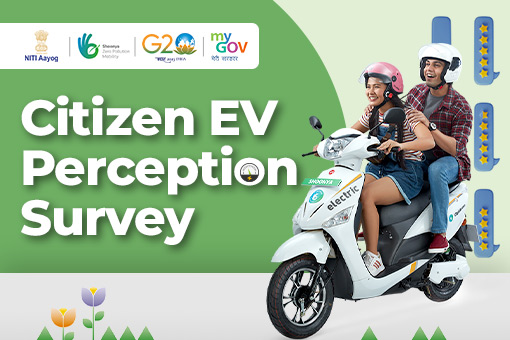 Start Date :
May 10, 2023
23:45 PM IST (GMT +5.30 Hrs)
Submission Closed
Shoonya - Zero Pollution Mobility is a campaign launched by NITI Aayog to promote using electric vehicles (EVs) for delivery and ride-hailing services. By building awareness and facilitating bold corporate action, the campaign aims to set these sectors on a pathway to 100% electrification and reduce air pollution from the transport sector in India.
To gain a deeper understanding of public perception and attitudes towards EVs, NITI Aayog and MyGov are launching a survey as part of the Shoonya campaign. This survey will cover various aspects of electric vehicles, including their adoption in ride-hailing and last-mile delivery services, consumer concerns, and the role of government and private sector stakeholders.
By participating in this survey, you will play a crucial role in shaping the future of EV adoption in India.
Every participant will receive a certificate signed by NITI Aayog and MyGov, recognizing their contribution to this important initiative.
Please visit the Shoonya campaign to learn more about the campaign and don't miss this opportunity to have your voice heard and contribute to the evolution of sustainable mobility in India.
Last date of submission is 31st July 2023
(Kindly refresh the page and download participation certificate after attempting survey.)