Ministry of Culture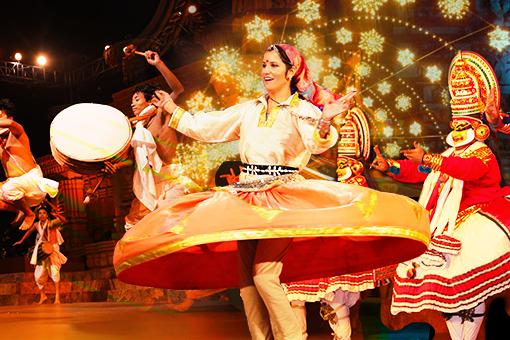 Click to participate above Activities
The Ministry of Culture deals with the preservation and conservation of the country's rich cultural heritage and promotion of art and culture. The Ministry functions through two attached offices, six subordinate offices and thirty five autonomous organisations.
There are seven Zonal Cultural Centres for promoting folk and traditional arts of different regions of the country. There are also four National Missions namely National Mission for Manuscripts, National Mission for Monuments and Antiquities, National Mission on Libraries, and Gandhi Heritage Sites Mission.
This Ministry is responsible for the protection, development and promotion of both tangible and intangible heritage and culture and also manages several knowledge resource centres. In addition, the Ministry is mandated to preserve Gandhian heritage and for commemoration of important historical events and centenaries. With regard to tangible heritage, the Ministry takes care of all the centrally protected monuments of national importance, through Archaeological Survey of India. Similarly, the Ministry also promotes the museum movement in the country and majority of the important museums of the country are under its administrative control. The Ministry also promotes regional museums through grant -in- aids. Regarding intangible heritage, the Ministry extends financial support to individuals, groups of individuals and cultural organizations engaged in performing visual and literary arts. Similarly, the Ministry through its organizations is engaged in recognizing excellence in the field of art and culture by way of awards given by institutions like Sahitya Akademi and Sangeet Natak Akademi. The National School of Drama is involved in promoting a vibrant theatre movement of contemporary relevance in the context of our traditions and cultural diversity.
The Ministry is also the custodian of all the major libraries in the country. It extends grant-in-aid for library development and is also responsible for all policy matters regarding library development. Through National Archives of India, the Ministry is responsible for maintenance of all archival records of the country. The Ministry is also involved in protection and promotion of Buddhist and Tibetan Culture through various institutions located at Sarnath, Varanasi and Leh.
The Ministry has a very well-planned capacity building programme for all those who wish to excel in the field of art and culture. Institutions like the School of Archaeology, School of Archives, National Museum Institute, the Asiatic Society, Maulana Abul Kalam Azad Institute of Asian Studies are mentionable in this regard. Various courses offered by National School of Drama and Kalakshetra Foundation are also some of the examples of capacity building programmes of the Ministry.
The Ministry marks its international presence by way of organising Festivals of India abroad and is also responsible for implementation of various UNESCO conventions in the field.
For more information please visit:
https://indiaculture.gov.in/
https://www.facebook.com/indiaculture.goi
https://twitter.com/MinOfCultureGoI
https://www.youtube.com/user/sanskritigoi
Sanskriti App