Daman and Diu U.T.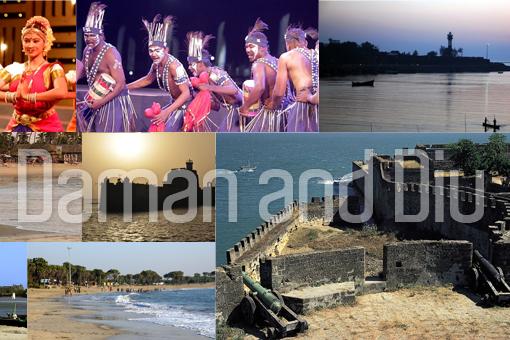 Click to participate above Activities
U.T. of Daman and Diu comprises two districts namely Daman and Diu. Both Districts are situated on western coast of India at a distance of about 700 kms. Daman is the head Quarter of this U.T.
Daman is on main land near southern portion of Gujarat State. Vapi is the nearest Railway Station (13 kms) which is on Western Railway between Mumbai and Surat. Vapi is 167 kms from Mumbai Central and 95 kms from Surat.
Diu is an island near Una of Junagarh District in Gujarat State. Nearest Railway Station is Delwada at the distance of 9 kms from Diu. But important trains are linked with Veraval which is 90 kms from Diu. A portion of Diu District is on main land which is named as Ghoghla. A small part of Diu known as Simbor is situated in Gujarat at a distance of 25 kms from Diu.
HISTORY
After Liberation on 19th December, 1961 from Portuguese Rule of more than four centuries, Daman and Diu became a part of the U.T. of Goa, Daman and Diu under Government of India. After delinking of Goa, which attained statehood, U.T. of Daman and Diu came into existence on 30th May, 1987.