National War Memorial
Veerta Chakra (Circle of Bravery). This circle depicts the Bravery of Indian forces in the form of a covered gallery that exhibits six bronze murals, depicting valiant battle actions of Indian Armed Forces.
Amar Chakra ( Circle of Immortality). This has an Obelisk with Eternal Flame. The flame symbolises the immortality of the spirit of fallen soldiers with the assurance that the Nation will never forget their sacrifices.
Tyag Chakra (Circle of Sacrifice). This includes circular concentric walls of honour, which symbolise the ancient war formation 'Chakravyuh'. The walls are clad with granite tablets where an independent granite tablet is dedicated to each soldier who has made the supreme sacrifice. Each name on the tablet is etched in golden letters.
Raksha Chakra (Circle of Protection). The outermost circle made of rows of trees in the Raksha Chakra is a reassurance to the citizens of the country about their safety against any threat, with each tree representing the soldiers who ensure the territorial integrity of the Nation, round the clock.
360 Degree Tour
Param Vir Chakra Heroes
Pay Tribute to Martyrs
NWM Quiz
Selfie Contest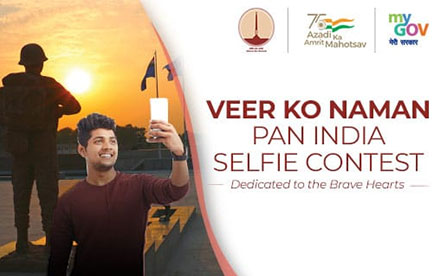 Photo Gallery
PM Paid Homage to Bravehearts
Next of Kin Ceremony on 10 Jan 2022
Paralympian Sharad Kumar Visits at NWM
VeerNaris of Galwan Bravehearts
Video Gallery
Manika Batra Common Wealth Games 2018 Gold Medalist Visited at NWM
On the occasion of 73rd Republic Day