Shoonya Podcast| Mega Moves in Mobility with Suman Mishra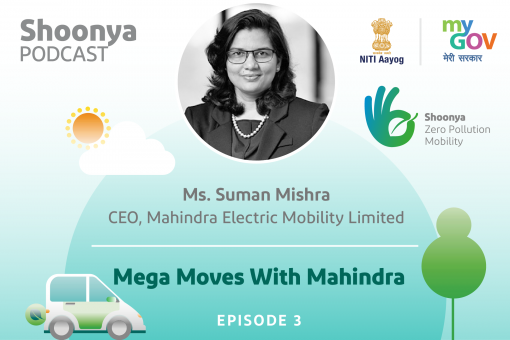 Transport is a fundamental requirement of modern life, but the existing transportation sector is majorly dependent on petrol and diesel. These vehicles are highly polluting and affect public health. Hence, a transition to electric vehicles that have zero tailpipe emissions is needed for India to de-carbonize its transportation sector and reduce associated negative externalities.
Recognizing this opportunity. Several private players are venturing into the EV market in India. In today's episode, we are going to speak with the CEO of one such company, Mahindra Electric. They have been one of the pioneers in the EV sector, currently making electric three and four wheelers for passenger and freight transport in India.
We have with us Miss Suman Mishra, CEO of Mahindra Electric, who is driving transformation across product planning, development, manufacturing, sales, and marketing at Mahindra Electric. In her previous roles, she was head of corporate project management at Cipla and worked as an associate partner with McKinzie and Company.
She was recognized as economic times 40 under 40 business leaders and Economic Times women ahead in 2019. Suman is an MBA from the University of Michigan and a computer engineer from Nanyang Technological University, Singapore.