ATL Marathon 2021 - Vote for your Problem Statement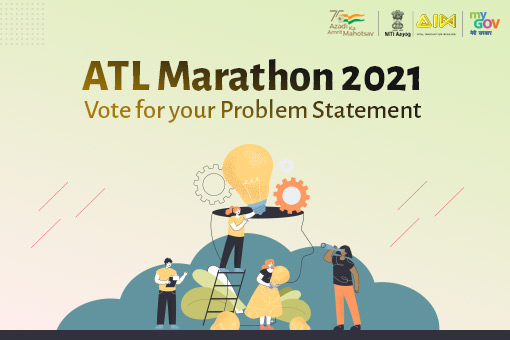 Start Date :
Nov 13, 2021
23:45 PM IST (GMT +5.30 Hrs)
Submission Closed
ATL Marathon 2021 – Research, Ideate, Innovate, Implement
The ATL Marathon (https://www.youtube.com/watch?v=45-lqTjE_A0&t=4s) is Atal Innovation Mission's (https://aim.gov.in/) flagship innovation challenge, where schools identify community problems of their choice and develop innovative solutions in the form of working prototypes. The last edition of Marathon witnessed 7000+ innovations, the top 300 of them get internship opportunities with top companies of India, prizes and certificates from AIM, NITI Aayog.
This year we celebrate the resilience, diversity and achievements of India as we begin the 75th year of Independence. To commemorate this special year, ATL Marathon 2021 will draw inspiration from developing a New India with the innovation and creativity of the young minds of our country.
The Marathon will be based on the 'Strategy for New India @ 75' document by NITI Aayog. This national strategy document for New India is a detailed exposition of forty-one crucial areas of national importance for achieving the objectives for a New India by 2022-23.
ATL Marathon will adopt 4 strategy areas mentioned in the document – Healthcare & Nutrition, Education, Energy & Transport, Social Inclusion
We want the students of India to vote on a problem statement that they relate to in order to co-create this year's ATL Marathon.
Please Vote Here