International Day of Yoga 2023
In this century we realise that Yoga has united the world
-PM Narendra Modi

An invaluable gift of ancient Indian tradition, Yoga has emerged as one of the most trusted means to boost physical and mental well-being. The word "Yoga" is derived from the Sanskrit root yuj meaning "to join", "to yoke" or "to unite", symbolizing the unity of mind and body; thought and action; restraint and fulfillment; harmony between human and nature, and a holistic approach to health and well-being.
Due to Hon'ble PM Shri Narendra Modi's relentless efforts, June 21 was declared as the International Yoga Day by the United Nations General Assembly. In its resolution, the UNGA endorsed that "Yoga provides a holistic approach to health and well-being apart from striking a balance between all aspects of life. The wider dissemination of information about the benefits of practising Yoga would be beneficial for the health of the world population." This infused an era of holistic health revolution in which attention was given more to prevention rather than the cure.
Centuries ago one of the most popular Sanskrit poets Bhartrhari, while highlighting the specialty of Yoga, said:
धैर्यं यस्य पिता क्षमा च जननी शान्तिश्चिरं गेहिनी
सत्यं सूनुरयं दया च भगिनी भ्राता मनः संयमः।
शय्या भूमितलं दिशोSपि वसनं ज्ञानामृतं भोजनं
एते यस्य कुटिम्बिनः वद सखे कस्माद् भयं योगिनः।।

Meaning that by regularly practising Yoga, a person can imbibe some very good qualities like courage which protects like a father, forgiveness as possessed by a mother & mental peace which becomes a permanent friend. Through regular practise of Yoga truth becomes our child, mercy our sister, self-control our brother, the earth becomes our bed & knowledge satiates our hunger.
A Look AT the Past Eight International Yoga Days
2022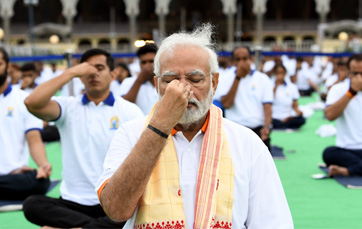 Theme:
Yoga for Humanity
Hon'ble PM Narendra Modi celebrated Yoga Day with other participants at Mysuru Palace Ground, Karnataka.
2021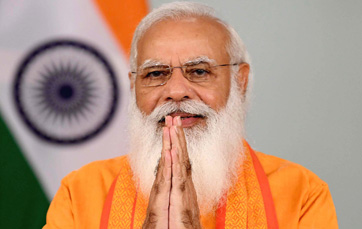 Theme:
Yoga For Wellness
Hon'ble PM Narendra Modi launched 'WHO M-Yoga' App
2020
Theme:
Yoga for Health - Yoga at Home
The event was organised virtually due to the global COVID-19 pandemic
2019
Theme:
Climate Action
Hon'ble PM Narendra Modi celebrated Yoga Day with other participants in Ranchi
2018
Theme:
Yoga for Peace
Observed in Dehradun on June 21, 2018, with 50,000 participants
2017
Theme:
Yoga for Health
Event was celebrated in Lucknow on June 21, 2017, with 51,000 participants. Prime Minister Narendra Modi discussed its importance in lifestyle
2016
Theme:
Connect the Youth
The event was held in Chandigarh on June 21, 2016. 30,000 people and 150 Divyangjan participated along with the Hon'ble Prime Minister.
2015
Theme:
Yoga for Harmony & Peace
Held at Rajpath in New Delhi on June 21, 2015. The event registered 2 Guinness World Records- first for 35,985 people participating in a single Yoga session at a single venue and the second for most nationalities (84) participating in a Yoga session 2015.